If you're on any of my online sites, you're likely to infer that I like fashion. If you also know me to a decent degree in real life, you probably know that I also like kids. Putting 2 and 2 together, it may not come as a surprise that I teach fashion design and machine sewing. I've spent a majority of my life working with youth in some capacity- from peer programs to classroom instruction. I find it to be incredibly rewarding work. Of course, it has its fair share of challenges, but kids light up my life.
I've spent the last few summers dedicating my time to crafting camp. I've found that I enjoy working with kids in more informal settings, so this is right up my alley. Honestly, it's tiring work. With informality comes a fine balance of instruction and fun- there are no grades and reprimanding but still a need to maintain focus and complete tasks. And kids… well, kids are… kids. I love them for their raw honesty and tendency to catch you off guard. There's rarely a dull moment; the type of life I love.
I love building with these young people… building the projects with them and building relationships. As exhausted as I'm left at the end of each day/week/summer, I find it hard not to return. I love sharing my passions with them and watching them excitedly embrace the art forms that are so dear to me. I'm rewarded by their excitement: the giddy chatter as they share their creations, the smiles, and them showing up week after week or summer after summer because they had so much fun. And then… I'm especially humbled when I get notes like this.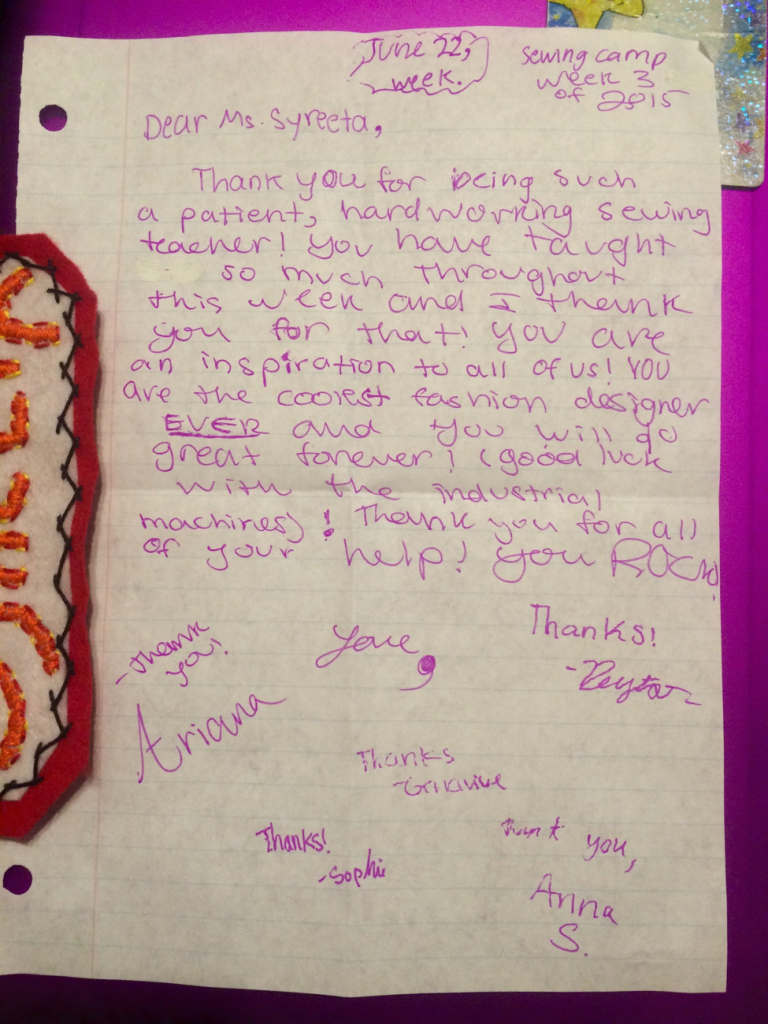 Many look at sewing and similar crafts as a lost art and I always have a dissenting opinion of the "starving artist" stereotype. Art can often be undervalued in parts of society and much of my personal motivation is being an example for youth who wish to pursue the arts in any capacity. I don't sugarcoat the fact that the road may be tough, but I do believe that it's worth it if you love it. And these such moments… This is the reason why.